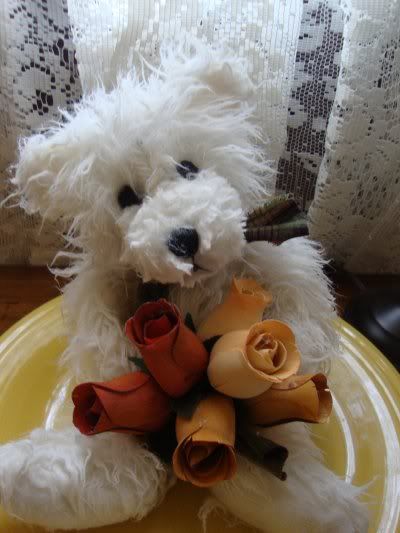 Spring is almost here and what is cuter than a sweet little teddy bear for your spring shows?
Making wax dipped bears is a simple way to allow someone to experience great scent without the flame of a candle! These are perfect for a shelf in a baby's room or an elderly person in a nursing home, the office or anywhere you can't burn a candle or don't want to. They are a nice addition to any room that needs a "Beary Special Friend"!
Making the bears is simple! The bears in my picture are dipped in IGI 1343 and combed out. She is scented in Baby Powder. I call mine Beary Scented Bears. People love these little guys! These are a simple enough project and yet generate great profits!
These adorable bears also have a velcro close back with a place to put potpourri, aroma beads, scented corn cob etc. if you don't want to dip too!


To make the bears here is what you will need:
A Presto Kitchen Kettle OR a wide pot to dip the bears in to.
A wire rack of some kind to place over the pot to drip the bears.
A doll stand (optional. Some people like this to "brush" the dolls fur)
Thick Rubber Gloves (With insulated lining, this is a HOT project!)
Large Tooth Comb or Fork (I use a fork)
Tongs

Optional Items for Bears:
Various Fabrics for Bows etc.
Ok! Now that you have all your items to make the bears here is the nitty gritty on "How to"!

First Assemble all your equipment and supplies, add approximately 1 weight pound of wax to your Presto Kitchen Kettle, 1 teaspoon Vybar 103 and melt the wax in the Presto Pot to about 170 - 180 degrees. (With white or light colored bears no dye is required, but on darker colored bears you may want to add a little dye to match the color. This will cut down on the white wax "dandruff" later. You can also use a hair dryer to "melt" the dandruff in later if you prefer.)
Once your wax is melted, add your fragrance. You can add 1-1.5 weight oz of scent per weight pound of wax. Stir until well blended. (Keep in mind that with white bears, using scents that have a dark color or a yellow may affect the end color of the bear. Try using scents that are as light as possible preferably clear.)
Next, dip your bear into the melted wax in the Presto Pot (use the tongs to dip and roll him in the wax), pull him out and squeeze out a bit of the excess wax. You'll want to wear thick, lined rubber gloves to protect your hands when you do this, as the wax is very hot!

Once your bear is squeezed out, it is time to start fluffing him back up! Some people lay the cooling rack across the top of the pot to let the excess drip back into the pot, others prefer to place him at this time into the doll stand. If you prefer to put the teddy on a doll stand (small sized) place the clamp of the stand around the neck of the bear. This helps keep the bear from falling over while you're posing him, and allows you to position him just the way you want him to look (head tilted, etc).
At this point keep fluffing the fur, just run the comb or fork through until he is fluffed back up! I find running it "up" the fur fluffs it out best. Remember, the fur will be stiffer from the wax, so however he looks is how he will stay. Work fast, they don't cool that quick but once they are cooled they are hard to fix. If you do need to fix the fur once it has cooled too much, running a low heat hair dryer over it will give you time to "fix a spot".









Some tips for making your bears:
Jointed bears seem to work best, but any sitting bear will do.
Also, the longer haired bears work better for fluffing than short hairs.
The most common sizes used are from 6" to about 10".
Better quality bears will hold up better to hot wax... some cheaper glued bears can fall apart, so keep this in mind when bear shopping, and when melting your wax! Our Bears are high quality bears that hold up to temps up to 190 with no problem.
You can dip other types of stuffed animals besides bears too!
White bears can discolor with some fragrance oils! Try to use oils that are clear or very light in color on white or pastel bears.
Average 6 - 10" bears sell for anywhere from $20.00 to $30.00 retail! (depending on your area, the quality of the bear, and the decorating and packaging of the final product, average seems to be around $25.00). That's a great profit when you are only spending around $5 per bear!
Pre warn customers that the bears will naturally lose scent over time, and that since they sit at room temperature, naturally they cannot "throw" scent as well as a potpourri burner or similar. They will need to refresh their bear every few months or so. You could even sell bottles of refresher oil (fragrance & DPG) for them to sprinkle on their bear when they're warming him with their blow dryer!
Bear Care:
Do not set waxed bears on wood surfaces as the oils in the wax can stain the wood!
These are not toys, keep out of the reach of children!
These are not candles and are not meant to be burned!
To refresh your bear, simply use a blow dryer to heat him for approx. 1 minute.
Creative Decorating & Packaging Ideas:
Try adding a little glitter or mica to the wax for a sparkle bear!
Tie some colored ribbon around his neck to match the different holidays (red or green for Christmas, red or pink for Valentine's Day, etc).
For a primitive bear, use homespun fabric for a ribbon, and hang rusty bells from his neck for Christmas!
Use a paper punch & tie a card on your bear!
Bears look great packaged in a clear cello bag tied with ribbon, raffia, twine or yarn!
Name Ideas:
Bear Air Fresheners, Air Bears, AromaBears, AromaAnimals, Fluffy Stuffies, Dippedy Dogs, Waxy Wabbits, Scented Stuffies, Potpourri Bears, Plush Scents, Fuzzy Fragrances, Scented Snugglers, Smelly Bears, Scraggly Bears, Bakery Bears, Bed Head Bears... just use your imagination!